The functionality that calls can be recorded from the transceiver to a SD card is integrated in many modern devices. With my Icom-705 and the Yaesu FT-5DE, which I use for SOTA on my hiking trips, it's possible as well. When I do a SOTA summit activation, I switch on the voice recording in principle, because in the heat of the battle it can happen nevertheless that I write down the callsign wrongly or incomplete or that I forget to note the name or the locator.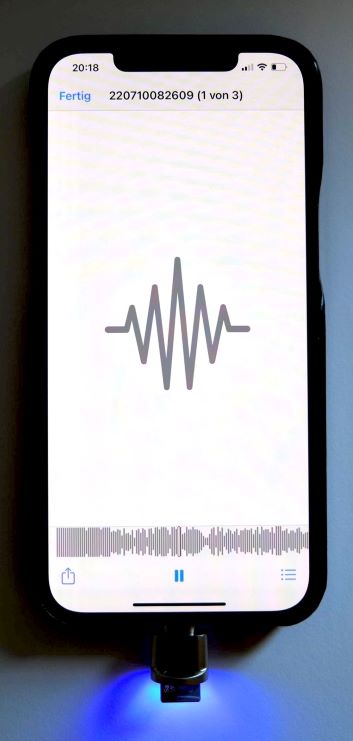 Listening to these voice recordings after an activity and comparing them with my entries in the notebook has become part of my "ritual" when I'm back home and preparing logging for sotadata.org.uk. At home, I simply plug the SD card into the Thinkpad. But what do I do when I'm on a multi-day hike and don't have a mobile computer with me for weight reasons? I had the idea to look for an SD card reader for the iPhone with Lightning connector, and indeed you can quickly find one at the relevant online retailers.
After a short research, I decided on the product "Rocketek Micro SD Card Adapter Lightning" from a company in Hong-Kong, which is supposed to work reliably according to customer reviews and was acceptable in terms of price at just under 11 euros (as of 07.2022).
In fact, the adapter works flawlessly with newer iPhones and the current iOS operating system. With older devices there could be problems because the function to connect an external SD card has only relatively recently been added by Apple.
After inserting the card adapter, the contents of the SD card can be accessed with the Apple app called "Files". The first time I plugged in the card it was not recognized, but the second time it worked. The card is displayed with "NO NAME" in the list and by tapping this entry you can browse the file system of the card. The folder "VOICE" of my Yaesu handheld contains the audio files in WAVE format, which can be played directly by tapping on them. The playback function is sufficient to listen to the QSO's afterwards. I can navigate quickly in the audio file by swiping and jump back and forth. If that's not enough, you can also "share" the audio file with other apps and then open and play or further process it there.
By the way, the SD card adapter from Rocketek weighs only 10 grams, is very ruggedly made of an aluminum housing and thus fits perfectly into my ultralight SOTA equipment.