For more than 20 years I have spent several weeks every year with backpack, tent and stove on long-distance hiking trails on islands or in the Alps. I have already made several crossings of the Alps (GR5, GTA, Salzburg-Trieste, Munich-Venice) and have hiked the legendary Tour-Du-Mont-Blanc around Mont Blanc a total of eight times. I also do a lot of backpacking on foot and usually climb the Brocken in the Harz mountains between 3-5 times a year to train for Alpine tours.
On my hikes I pay a lot of attention to the weight in the backpack (and also on the body :) and try to stay between 10-12 kilos without water and food. With water and food it is then usually 13-15 kilos total weight and I can manage that very well in the mountains. This weight is far from falling under the category of "Ultralight Backpacking", but for having everything with me - including food for 2-3 days - and being fully autonomous with tent and stove, I consider it a well-optimized weight.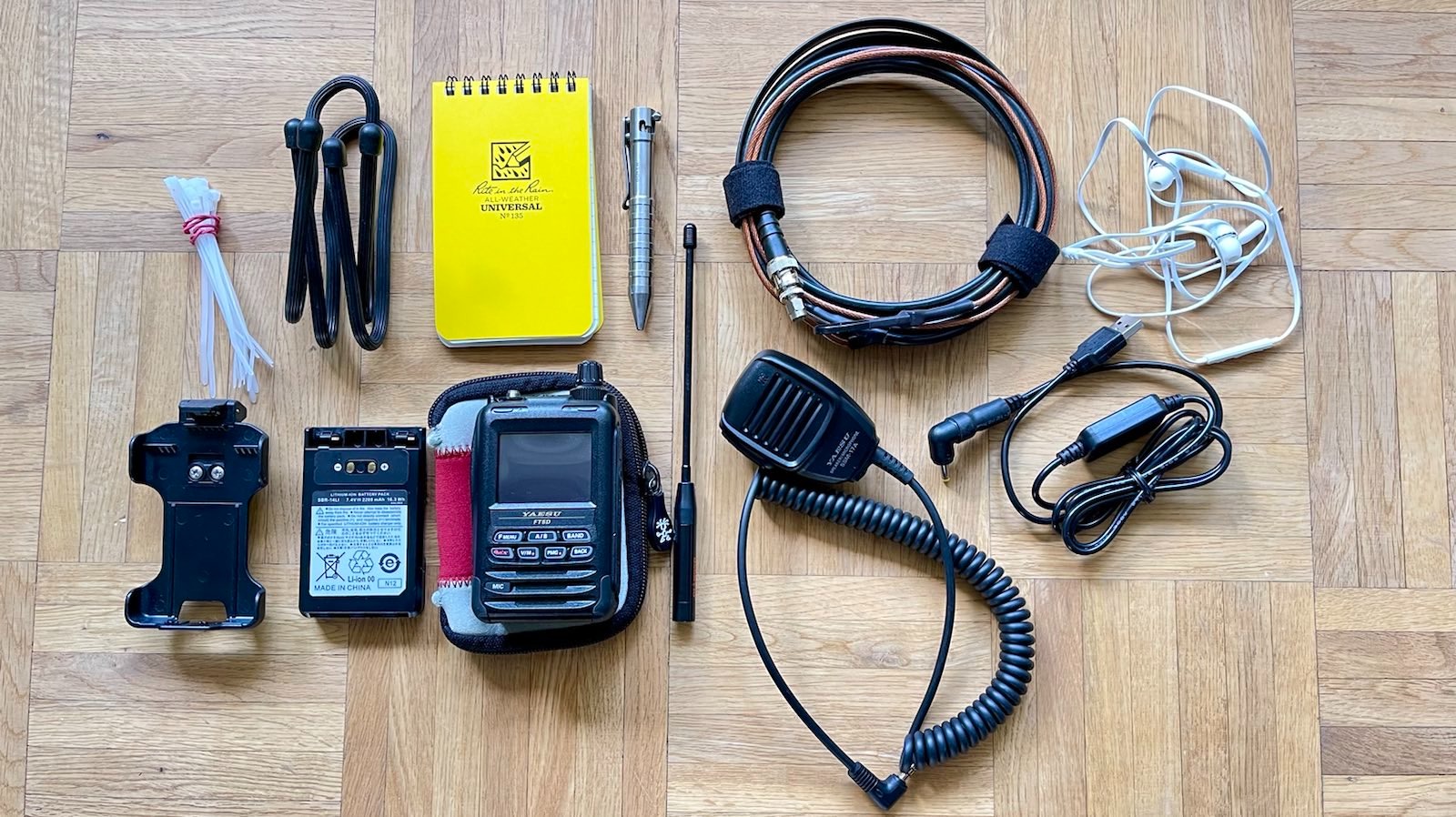 When I passed my ham radio exam in 2022 and started SOTA shortly thereafter, this extra weight was always in my focus for my later long-distance hikes. Two or three kilograms more would just be too much to carry on my back through the mountains. So my gear has to be rugged, compact, and above all, light!
I set myself a limit of maximum one kilogram of additional weight for the SOTA activities during my hikes, which I would like to detail in the following list.
List of parts⌗
| Prio | Part | Weight | Description |
| --- | --- | --- | --- |
| 1 | Yaesu FT5-DE | 272g | 2m/70cm GPS/APRS FM/C4FM handheld radio |
| 1 | protective cover | 41g | Crumpler bag neoprene cover |
| 1 | spare battery | 97g | SBR-14LI battery 7.4V 2200mAh |
| 2 | belt clip | 39g | Yaesu SHB-26BK quick release mount |
| 2 | Microphone | 90g | Yaesu SSM-17A Speaker/Microphone |
| 1 | charging cable | 45g | charging cable USB for Yaesu from Amazon.com |
| 2 | Headphones | 13g | In-Ear Headphones |
| 2 | Rubber Twist Tie | 39g | Nitze Itze Gear Tie® Reusable Rubber Twist Tie™ |
| 2 | Cable Tie | 5g | A bundle of small cable ties |
| 2 | Notepad | 56g | Rite in the Rain All-Weather Notebook |
| 2 | pen | 39g | Böker Plus K.I.D. Cal .50 Tactical Pen with Fisher Space Pen Refill |
| 1 | stub antenna | 26g | Diamond SRH701 |
| 1 | Wire Antenna | 145g | Lamdbahalbe 2m/70cm Duoband Wire Antenna with 2.5m Cable |
| 1 | packing bag | 20g | The bag that holds everything together |
| | | | |
| | Total weight | | 927g |
| | Prio 1 minimum weight | | 646g |
Some of the parts could still be omitted to further reduce the weight. I have given priority 1 to the really important parts. Everything else could theoretically stay at home and could be replaced by other things if necessary (e.g. the notepad and pen by the logging app in the smartphone).
All in all, I am very satisfied with the current equipment and it has already proven itself during my last SOTA activation in DM/BW. After all, the 2m/70cm duoband antenna from Lamdbahalbe has given me Summit-to-Summit connections between 100 and 140 kilometers away, and it's also very quick and easy to install - the "handling" and straightforward omnidirectional pattern with 6dB gain over the "rubber sausage" is unbeaten for 2m/70cm FM (so far) in my opinion.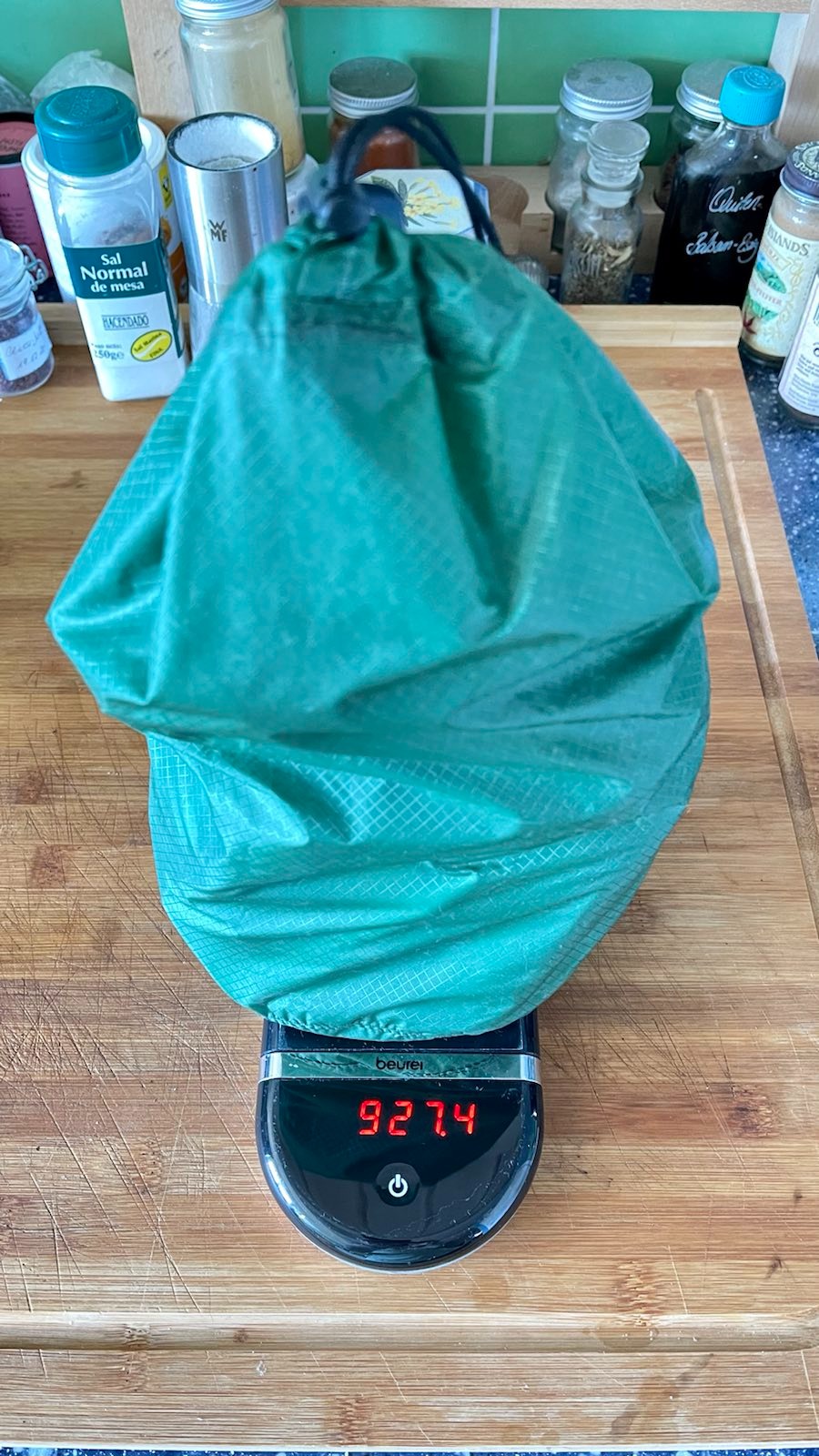 Ultralight SOTA⌗
At this point, I would like to suggest the topic Ultralight SOTA for all those who are on longer treks and have to pay attention to the weight, where we give each other tips for the lightest possible equipment, which in any case must be under 1000g total weight.
This could take place for example with the hashtag #ultralightSOTA on Mastodon or Twitter. I look forward to an exchange with you and can be found on Mastodon under @do1mj@mastodon.radio.
External links⌗
External link to Lambdahalbe 2m/70cm duoband portable antenna